Train Services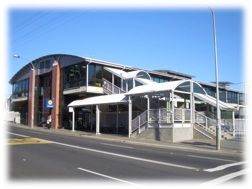 Lidcombe railway station is a major junction station on the Sydney Trains metropolitan railway network of Sydney. It is the junction point of the Main Western and Main Southern railway lines. Lidcombe is served by the T1 Western Line and the T2 South Line, and is the present terminus of the T7 Olympic Park and T3 Bankstown lines. Lidcombe is the 21st most patronised railway station in Sydney (out of a total of 176 stations), with an average of 10,340 passengers boarding per day.
As a resident in Lidcombe, you can enjoy the Sydney Aquatic Centre, Sports Centre and the many recreational activities available for the whole family by using the Olympic Park services which depart from Lidcombe Railway Station only. Lidcombe has 6 platforms, five for ordinary suburban services, and one for the Olympic Park services, which operate every 10 minutes between Lidcombe and Olympic Park stations. The station is served by eleven to sixteen trains per hour each way, with additional trains during weekday peak hours.
Bus Services
Sydney Buses runs one route via Lidcombe station: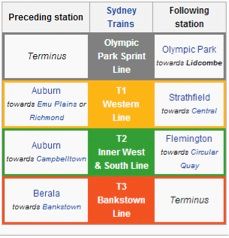 Route 401 – to Olympic Park Station via Parramatta Road, Homebush Bay
Route 912 – to Bankstown.
The nearest railway station to the The University of Sydney Cumberland campus is Lidcombe station. The University of Sydney recommend that their students use the available bus services between Lidcombe Railway Station to the campus. Whereas, both the M92 and the existing 915 service will pick up/drop off from the Eastern Commonwealth Bank side of Lidcombe Station. The M92 bus service provides a continuous service to The University of Sydney Cumberland campus throughout the year.
Route 915 – to University of Sydney Cumberland Campus
Metrobus M92 – between Parramatta and Sutherland
NightRide runs the following routes via Lidcombe station:
Route N50 – between Liverpool and City (Town Hall)
Route N60 – between Fairfield Station and City (Town Hall)
Route N61 – between Carlingford Station and City (Town Hall).
For more information, please click here and here.